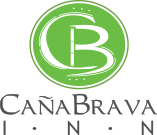 CAÑA BRAVA INN HOTEL
We are a small hotel located in Cañas Guanacaste, Costa Rica, that started 17 years ago. Our comfortable and cozy rooms are waiting for you. Our restaurant serves the most delicious local cousine, international dishes and cocktails that you can enjoy in our bar. Feel gratefull to stay in a hotel that produce it's own energy with Solar Panels.
Even if you join us for business or pleasure, we guarantee that you will have an amazing time in Caña Brava Inn...